manufacturer introduction
Wenzhou Boshi Safety Product Co, Ltd is a professional manufacturer specializing in safety lockouts, safety labels and signs and personal protection equipment. We have our Research and Development Team to bring out various kinds of products and solutions to meet our dedicated customers' requirement. Quality pursuing and Innovation are never ending process with us.
WHAT SERVICE WE PROVIDE?
If you couldn't find the exact product you want, never mind, just contact us and tell your requirements, we will arrange the moulds and manufacture for you.
No minimum order quantity required
Many products are available from stock with the next several days.
If required, goods can be collected from our factory directly to your customers with any different address. We also support OEM manufacturing, with any given order quantity.
TEL:86-577-57155522 FAX:86-577-62870808 Mobil:86-13587463882

product description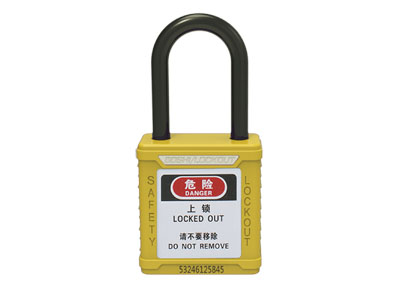 Durable, lightweight with non-conductive PA lock bodies, passed temperature from -57℃ to +177 , shock resistance; The shackle is Chrome plating; the non-conductive shackle is made from Nylon, ensure the strength and deformation fracture not easily.
Resistance of chemical, extreme temperatures and UV rays.
Key retaining feature ensure the padlocks are not left unlocked.
Laser printing available, front or flanks.
Several types classified by lock bodies; all different colors available.
Contain "DANGER"and "PROPERTY OF" standard labels on front and back.
Can be engraved with customers' logo if required. Can be customized noctilucence PVC sign.

Wire Safety Padlock BD-G41~G48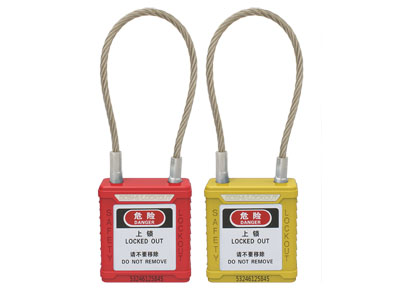 Product Parameter
Brand: BOSHI
Part code: BD-G41~BD-G48
Color: Red, Yellow, Blue, Green, Black, White, Orange and Purple
Material: Stainless steel & Nylon PA
Body Size: 38mm Length, 45mm Height
Wire Length: 150mm
Shackle dia: Φ10mm
Weight: 66g
Lock Body Types for your choice
Temperature range: -57 to 177
Key Series: KA, KD,MK,KAMK
Usage: suit for lock with another safety lockout (wire dimension can OEM)
Can use customer's logo
Wire Dimension: 3.2mm x 45mm
Detail Display
High Quality Stainless steel wire: made of stainless steel wire, strong and durable, wire adjustable.
High Quality Nylon Lock Body (fill in the back side with the name of the manager and other important information)
skid Resistant: convenient for workers to work. (the new body, E type is the most skid resistant)
6pins cylinder: ensure the safety and further less the situation of repeating
Key Retaining: ensure the key not to be lost